Quick Start Guide to Havex
What is Havex?
Created by one of Haven's long term community members, it is a multi-function website and swap platform built to support the Haven Protocol network.
You can visit it here: https://havex.io/ and they provide the following services with no KYC:
xAsset liquidity pools to earn yield
xAssets swap platform
No KYC
In depth Haven network analysis tool
p2p trading tool
NOTE: Havex.io exists entirely independently from the core protocol and has no affiliation to the core team or project. Users carry out transactions on Havex.io at their own risk.
For any queries you can reach out here:
What are Havex.io liquidity pools?
Instead of traditional order books, Havex.io has opted to create automated market maker (AMM) liquidity pools to manage buying and selling of assets on the platform. It allows users to earn yield on their assets they would other wise just be holding, this incentive should help to create deep liquidity pools that allow traders to swap assets on the platform with low slippage.
How does it work?
Havex.io liquidity pools work like the well known decentralized AMMs – UNISwap, THORChain, Balancer, etc. To maintain price in our pools, Havex.io uses constant product formula to maintain pool prices based on base vs quote asset depth, just as these protocols do. The main difference between Havex.io and these protocols is that Havex.io is not decentralized, rather it is hosted on centralized web server infrastructure just as other centralized exchanges like Binance, Bittrex, etc.
How do I add liquidity?
Create an account and log in.
Deposit assets to your account by clicking on the user icon followed by wallet and then deposit shown in the image below: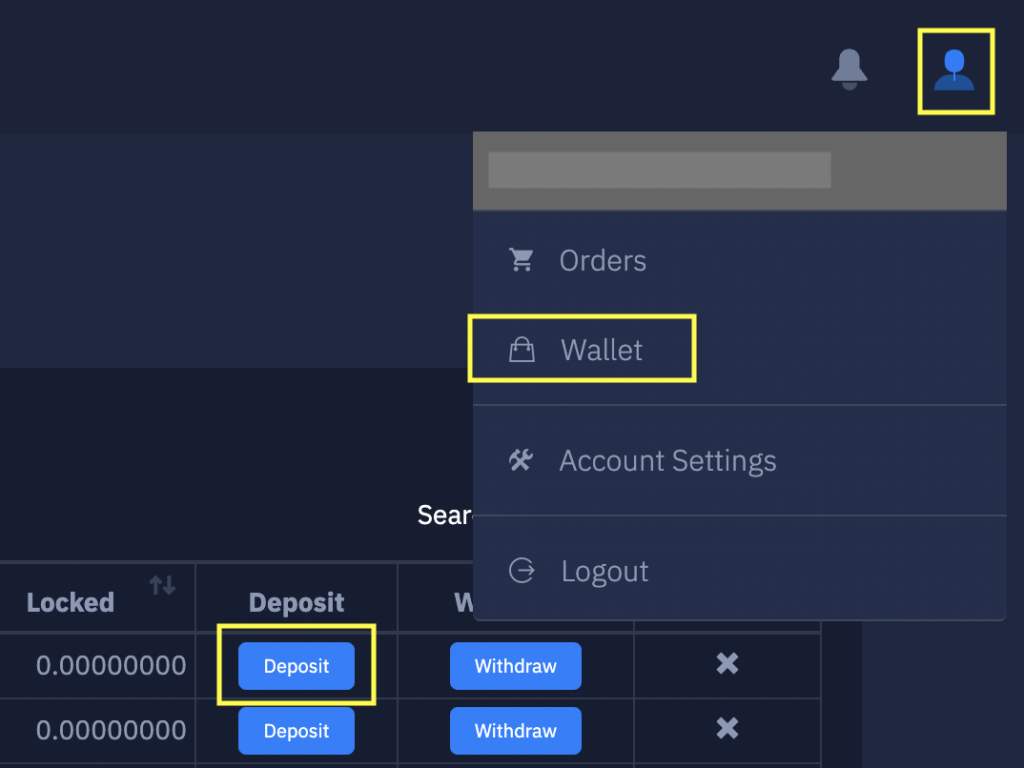 Once your transactions have been confirmed and are available for use in the platform, click on the Exchange tab in the navigation menu.
Once on the exchange page, you are shown all the markets available on the Havex.io platform.
Pick a market you would like to add liquidity to and click on the Add button on the table row for that market.
A popup will open where you enter how much of each asset you can add to the pool. Enter the amounts as per the image below.
NOTE: Havex.io only currently allows symmetrical deposits, so you must deposit an equal value of each asset.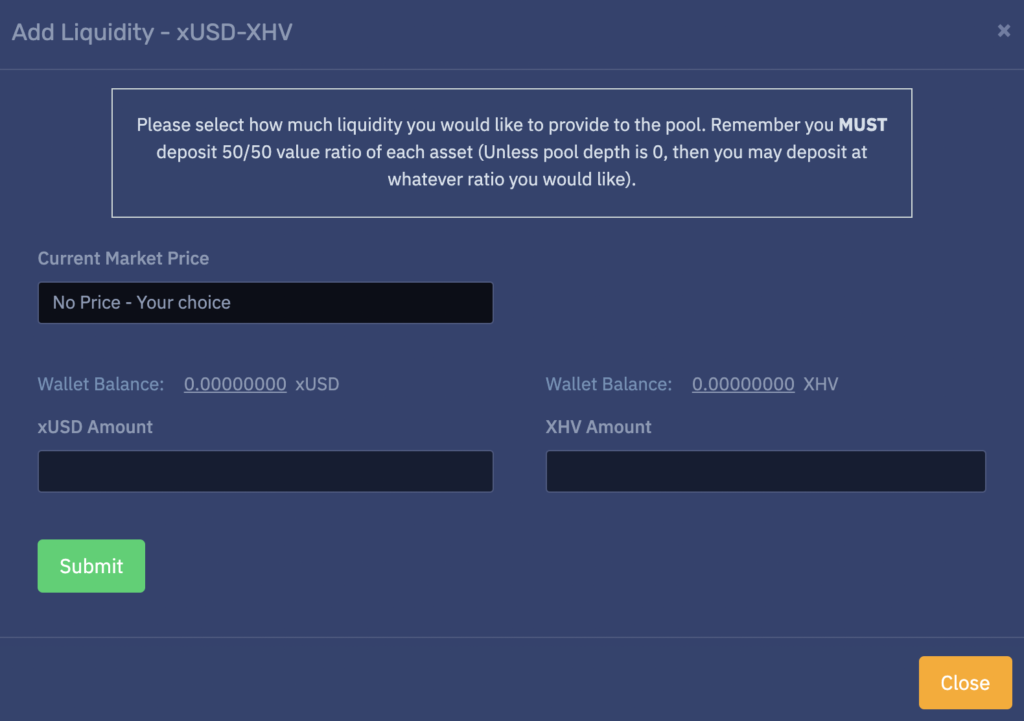 Once satisfied with the amounts for each asset, click Submit.
Once complete you will get a success message pop up. If it fails you may need to adjust the amounts to ensure 50:50 value ratio.
You can view your liquidity positions in the "My Liquidity" section of the "Exchange" page.
How do I remove liquidity?
Click on the Exchange tab.
Click remove on the pool you wish to remove from.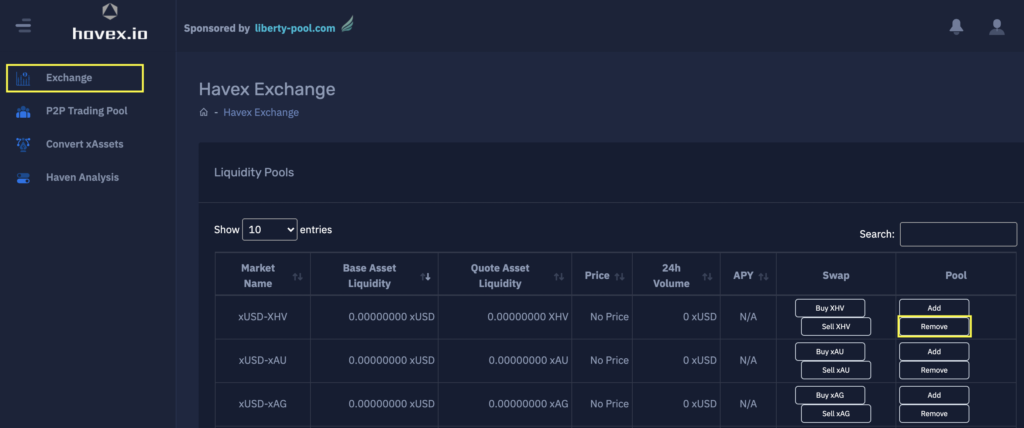 A popup window will then appear as shown below.
Select the % of funds you wish to remove, confirm the amounts and click submit.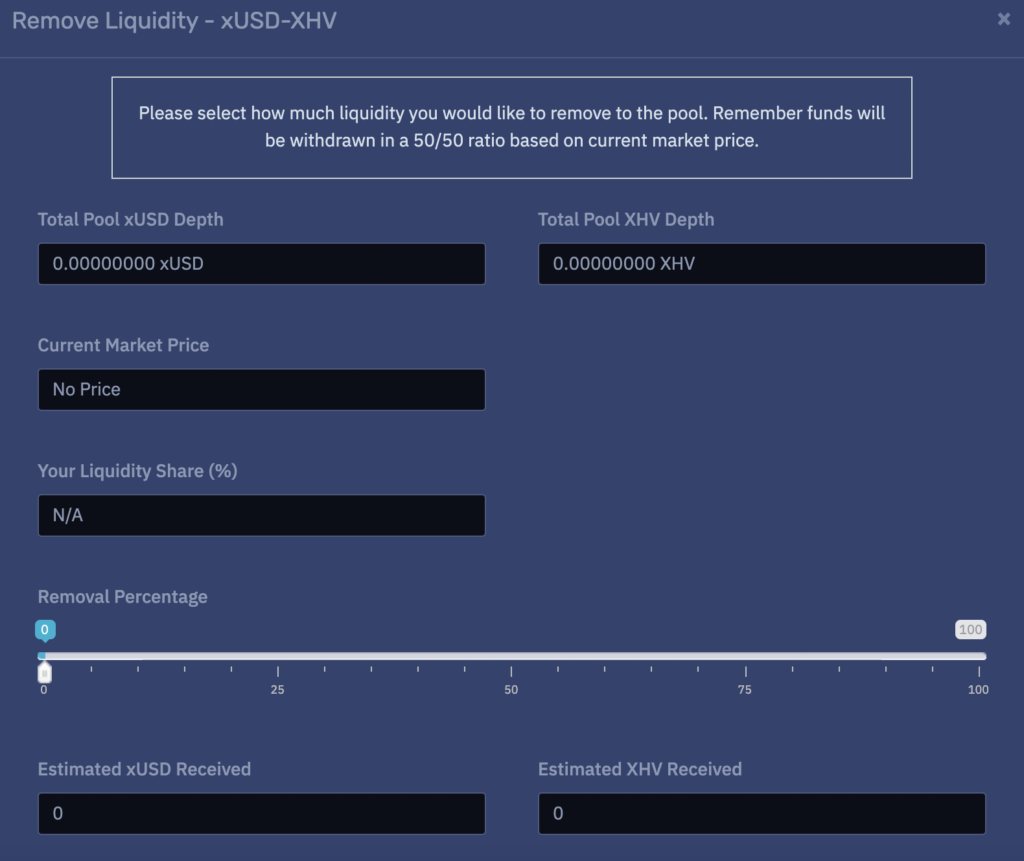 Upon completion, if you still had funds in the pool prior to pressing submit, a success message will be displayed. You can then withdraw your funds to an external wallet if you choose by clicking on the user icon, wallet and then withdraw as per image below:
How do I swap assets?
Click on the Exchange tab from the navigation menu.
Select the market you wish to swap with and click buy or sell depending on your needs.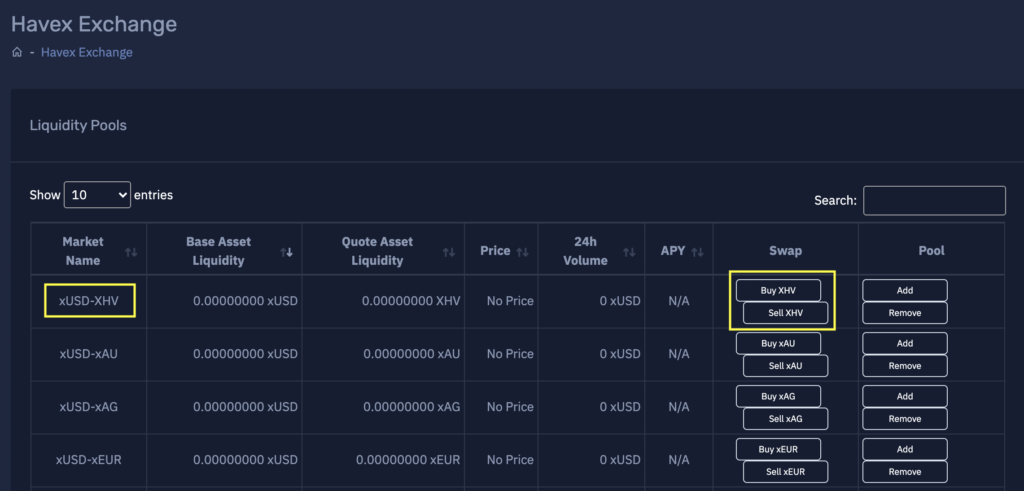 The buy/sell popup will open where you are able to enter the amount of each asset you would like to swap. You are also able to indicate how much slippage you are willing to incur with this transaction.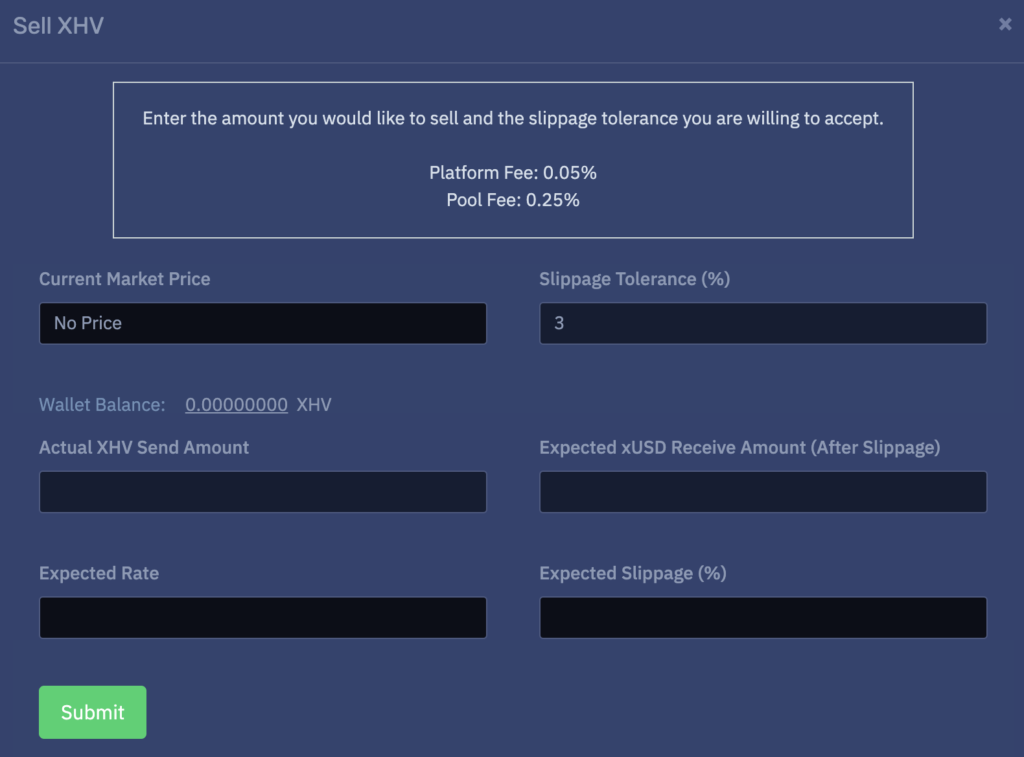 NOTE: Slippage refers to situations in which a market participant receives a different trade execution price than intended.
Once you enter an amount, the platform will calculate how much expected slippage there will be if you execute your order against the pool. Large orders will have more slippage than others. If "Expected Slippage" is too high for your order, try lowering the amount of your order until the slippage is more palatable.
When you are satisfied with order parameters, click Submit.
If your order execution is successful, you will see a message indicating that.