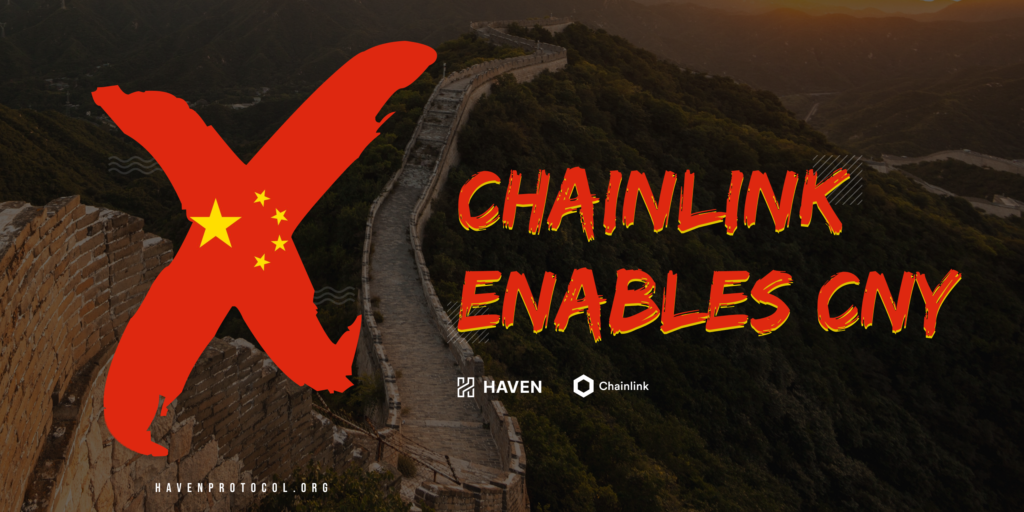 Haven has integrated the Chainlink CNY/USD Price Feed to enable private DeFi transactions in xCNY
Over one year ago, Haven announced an integration of Chainlink to access price data for both XHV and xUSD. Doing so enabled us to launch the first private stablecoin (xUSD) on mainnet in July 2020. xUSD is algorithmically pegged to the U.S. Dollar, as the protocol ensures that 1 xUSD will always be worth 1 USD worth of XHV. 
Based on the success of xUSD, Haven is now leveraging an additional Chainlink Price Feed that tracks the exchange rate between the U.S. Dollar and Chinese Yuan. Chainlink's CNY/USD decentralized oracle will supply accurate and tamper-proof prices to Haven that support our newest private, algorithmic stablecoin xCNY.
Expanding on the Integration
This ability to convert between assets on the blockchain in complete privacy, without the need for an exchange, is what makes Haven unique. Oracles play an essential role in this process as the price data allows users to burn XHV to mint the correct amount of xUSD and vice versa.
The next major milestone for the Haven ecosystem is the further addition of xAssets. Once live, these algorithmically pegged synthetic assets will work in much the same way as xUSD. The protocol is built to enable support for any number of xAssets, as long as a reliable pricing feed is available.
A fork date for xAsset Mainnet will be announced in Q1 2021, with Gold (xAG), Silver (xAU), Euro (xEUR), and the Chinese Yuan (xCNY) going live at first release, hence, the timely addition of the Chainlink CNY Price Feed along with the other Chainlink Price Feeds already live to support the other assets.
The primary use case of xAssets is private asset storage. Haven is a Monero fork, so privacy is baked into every part of its architecture. Every transaction is encrypted, including source and destination wallets. Because assets are minted algorithmically, liquidity is infinite and slippage is zero. This, combined with low fees, provides a unique private exchange environment that potentially transforms DeFi.
Haven is using Chainlink because it's built to be highly robust, while offering strong performance enhancements through its recent OCR upgrade. Importantly, Chainlink has high quality data that's sourced from numerous data aggregators, which each pull in price data from both CEXs and DEXs, weight it by volume, and remove outliers. This prevents vulnerabilities like exchange downtime, exchange inaccuracies, or data manipulation attacks, such as those done through flash loans. Combined with it's decentralized oracle infrastructure, Haven users get strong guarantees from Chainlink oracles on the security and reliability of minting and burning xAssets.
Notably, the Chainlink CNY/USD Price Feed enables Haven to launch the world's first private stablecoin based on the Chinese Yuan, allowing stable asset storage in their respective markets in a way that wasn't possible before.
For further information on Haven Protocol, visit https://havenprotocol.org/
About Chainlink
Chainlink is the most widely used and secure way to power universally connected smart contracts. With Chainlink, developers can connect any blockchain with high-quality data sources from other blockchains as well as real-world data. Managed by a global, decentralized community of hundreds of thousands of people, Chainlink is introducing a fairer model for contracts. Its network currently secures billions of dollars in value for smart contracts across the decentralized finance (DeFi), insurance and gaming ecosystems, among others.
Chainlink is trusted by hundreds of organizations to deliver definitive truth via secure, reliable data feeds. To learn more, visit chain.link, subscribe to the Chainlink newsletter, and follow @chainlink on Twitter.

Docs | Discord | Reddit | YouTube | Telegram | Events | GitHub | Price Feeds | DeFi | VRF