xAsset Fork and Artemis 1.3.0 launch is complete!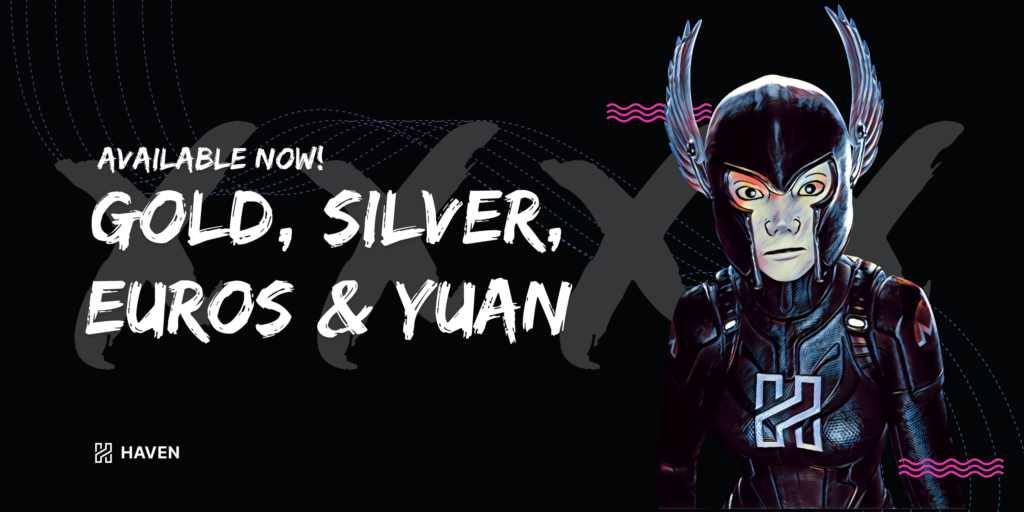 Haven Launches New Private Asset Ecosystem
Gold, Silver, Euros, and Yuan are now available on Haven!
We are proud to announce that today's xAsset hard fork is complete and working well!
About xAssets
As a reminder, the new assets (referred to as xAssets) launched today are private, synthetic representations of real-world assets, traditional currencies, and other financial instruments. When used within the Haven Vault, xAssets will always maintain their intended value due to Haven's "mint and burn" protocol and the use of decentralized pricing oracles.
Below are some key details about today's launch:
These new xAssets can be minted in your Haven Vault via xUSD.
For this release, we are once again utilizing trusted, decentralized pricing oracles from ChainLink. They can be found here: xEUR, xCNY, xAU (Gold), and xAG (Silver).
xAssets are subject to standard transaction fees and a flat 0.3% conversion fee.
After conversion from xUSD, xAssets will be unlocked after the standard 10 block confirmations (about 20 minutes).
xAssets can be transferred from vault-to-vault and converted back to xUSD using the same process.
Additional information about xAssets and their use in the Haven ecosystem can be found in our Knowledge Base. https://havenprotocol.org/knowledge/xassets-a-guide/
All users will need to update their Haven Vaults to version 1.3.0c and conduct a fresh re-scan of their vault to begin using xAssets.
Temporary – 6 hr lock times
A minor issue became apparent during the fork process which prevented xAsset conversions. We applied a temporary update to the vaults to work around this issue. Unfortunately, this results in a 6 hour lock on xAsset conversions, as opposed to the intended 20 minutes.
We will fix this issue with a daemon patch, which will be available shortly, and restore the xAsset lock time to 20 minutes as quickly as possible. Please follow Discord for further details.
Web Vault
The Haven Web Vault has been updated to support new xAssets. You can log in using seed or an existing vault key file. When you use this new version for the first time a re-sync will trigger automatically.
To access web vault visit: https://vault.havenprotocol.org
Advice on how to reduce sync time
The sync is a scan of the chain. You don't need to scan parts of the chain that are older than your vault, so defining a refresh height (point from which the scan starts) will reduce your sync time.
If you created a new account via the web vault, the refresh height will already be set already in your key file. This will result in the shortest possible sync time.
If you restored an older account on the web vault (and experienced a long sync previously) then your key file will not include a restore height, so the re-sync will take a long time. If this is the case, we recommend restoring your vault from seed. The new vault will give you the option to set a restore height, thus reducing the re-sync time significantly.
For further details see: https://havenprotocol.org/knowledge/vault-restore-height/
Desktop Vaults (Beta)
Below are links to the upgraded Haven Desktop Vaults (v1.3.0c).
Note: These are Beta releases. They function correctly but lack the polish and finesse we're aiming for. There will be regular releases until they are up to standard.
MacOS Desktop: https://docs.havenprotocol.org/binaries/v1.3.0c/Haven-1.3.0.dmg
Windows Desktop: https://docs.havenprotocol.org/binaries/v1.3.0c/Haven-1.3.0_Setup.exe
Linux Desktop: https://docs.havenprotocol.org/binaries/v1.3.0c/haven_1.3.0_amd64.deb
CLI Wallets
Below are the CLI wallets which are in final release form:
MacOS CLI: https://docs.havenprotocol.org/binaries/v1.3.0c/haven-macos.tar.gz
Windows CLI: https://docs.havenprotocol.org/binaries/v1.3.0c/haven-windows.zip
Linux CLI: https://docs.havenprotocol.org/binaries/v1.3.0c/haven-linux-glibc229.tar.gz
Today is a celebration!
April 12 is celebrated around the world as "International Day of Human Space Flight" in dedication of the first manned space flight made on April 12, 1961. Haven is focused on ground-breaking firsts as well, and today marks the beginning of a new era of financial autonomy. Just as the first person circled the earth 60 years ago, today anyone in the world can use Haven to own a multitude of private digital assets around the globe, without borders. Assets only they can control, see, and use. It's never been done before, and it's possible today only on Haven. Private stable money. True digital, fungible cash.
Thank You!
This launch is the result of countless hours of work from our development team and incredible community. Thank you to everyone who has helped test this release and work with us to ensure a smooth launch of Haven's new private asset ecosystem. This is the beginning of a new era of financial privacy and freedom!