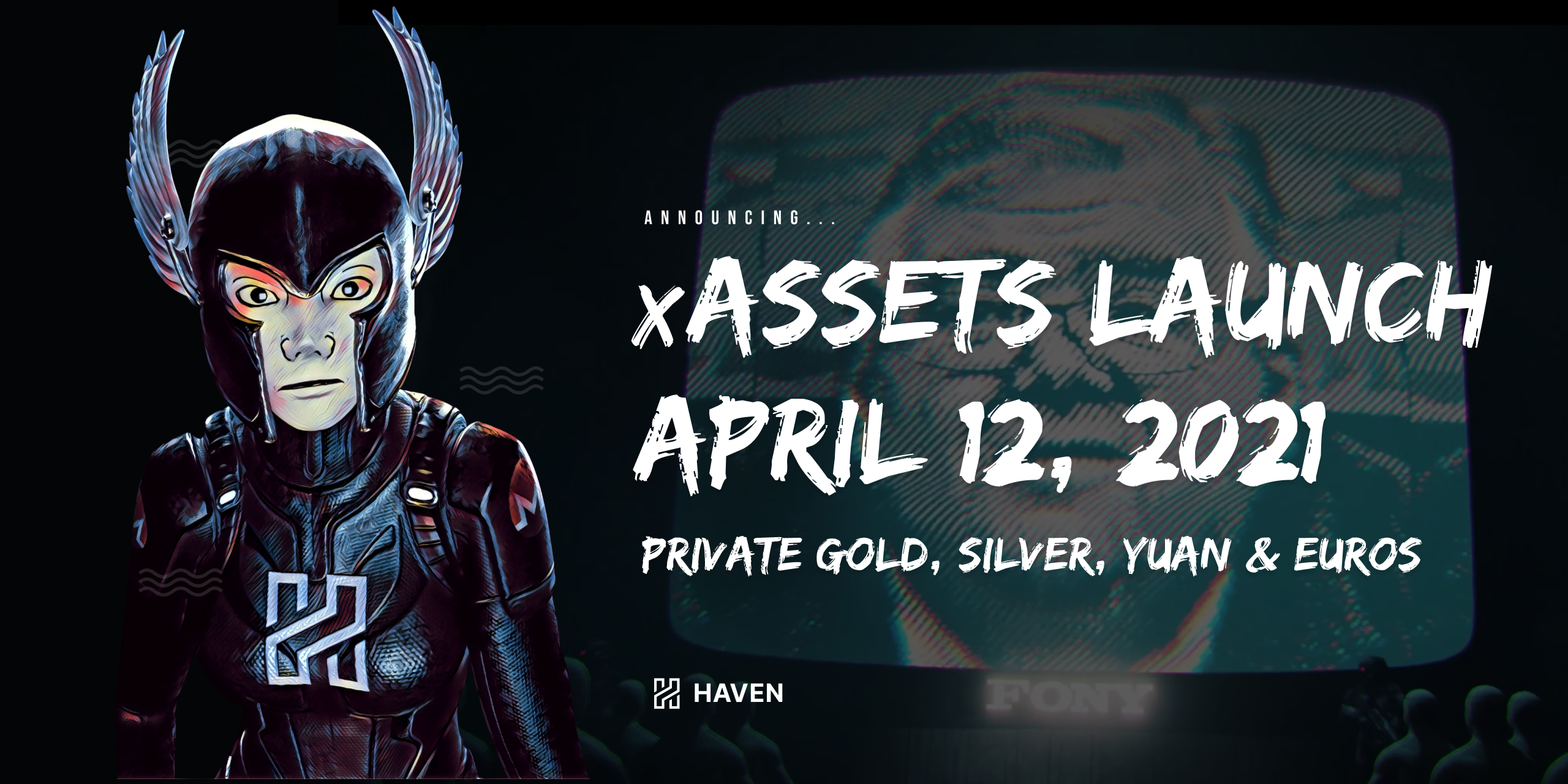 We are thrilled to announce Haven will be launching new private assets to mainnet on April 12th 2021!
Haven will conduct a hard fork at block height 831700 (on or around 12.50 hrs UTC on 12th April 2021) to implement the new xAsset codebase and launch xEUR, xCNY, xAU (Gold), and xAG (Silver).
These new assets (referred to as xAssets) are private, synthetic representations of real-world assets, traditional currencies, and other financial instruments. When used within the Haven Vault, xAssets will always maintain their intended value due to Haven's "mint and burn" protocol and the use of decentralized pricing oracles.
Below are some key details about the launch:
Once launched, these new xAssets can be minted in your Haven Vault via xUSD.
For this release, we are once again utilizing trusted, decentralized pricing oracles from ChainLink. They can be found here: xEUR, xCNY, xAU (Gold), and xAG (Silver).
xAssets are subject to standard transaction fees and a flat 0.3% conversion fee.
After conversion from xUSD, xAssets are unlocked after the standard 10 block confirmations (about 20 minutes).
xAssets can be transferred from vault-to-vault and converted back to xUSD using the same process.
Additional information about xAssets and their use in the Haven ecosystem can be found in our Knowledge Base.
For pools and miners, you will need to upgrade to the latest daemon. The release will be v1.3.0a, and available on Github soon.
For Haven users, you don't need to do anything just yet. On or before April 12, you will need to upgrade your Haven Vault to start using the new xAssets. We are in the final stages of testing the upgraded Desktop and Web Vaults and plan to release them shortly before the fork date.
This launch is the result of countless hours of work from our development team and incredible community. Thank you to everyone who has helped test, bug hunt, and work with us to ensure a smooth launch of these new assets. This is the beginning of a new era of financial privacy and freedom!