Project Governance Update
Introduction
The concept of a Committee-based project structure to improve the decentralization of governance has been in discussion for some time. Feedback on the initial ideas has been positive, so the decentralization working party have provided further recommendations within this document.
The next step will be to gain further input from the community before refining and implementing.
Do you want to be more involved in Haven Protocol?
Please provide feedback on this document via the Haven Discord #governance-discussion channel. Community members interested in joining the Haven Steering Committee (HSC) should also make themselves known on this channel.
Overview
Haven Protocol will consist of the following Committees and groups.
Haven Oversight Committee (HOC)
Haven Steering Committee (HSC)
Protocol Developers
Community Working parties
Pool operators and miners
Haven community
Roles and Responsibilities
Haven Oversight Committee (HOC)
The HOC is another layer of governance, ensuring the steering committee's actions are always in the project's best interests. It will act as a back-stop, able to veto steering committee decisions if required.
The HOC's power is derived from the following principles.
1. It will approve all Moderate and Major decisions made by the steering committee, as defined by a formalized process. This will include a limited right to veto decisions made by the steering committee.
2. Include enough muti-sig governance wallet signatories to ensure governance vault transactions are only used in the project's best interests.
3. Initiate a review and possible removal of steering committee membership where members are not acting in the project's best interests.
The HOC will:
Act with the agreement of the broader community.
Provide approval on all significant proposals and decisions.
Provide written reasons, should any initiative or decision be vetoed.
Manage treasury funds, until a formal treasury is established.
The HOC will initially consist of 3 to 5 members.
This Oversight Committee will be established first, so they can support in the setting up of the Steering Committee.
Haven Steering Committee (HSC)
The HSC will:
Liaise with the broader community on core protocol changes and updates.
Formulate and implement a growth strategy.
Actively prioritize and drive forward all initiatives.
Determine prioritization of development and activities – attributing bounty payments where necessary.
Assist with recruitment of developers and other collaborators.
This Committee is expected to consist of 7 to 11 loyal and trusted project supporters with relevant knowledge or expertise and will be elected by the community.
They will meet regularly to monitor projects and move initiatives forward.
​​​​​​Project Secretary
A significant amount of admin is required to manage the Council, including the documentation, facilitation and communication of the project's progress. One or more contributors could complete this project management role. They will
Act as an intermediary between HSC and HOC where required.
Create and maintain documentation relating to HSC proposals and community communications.
Assist with project contributor recruitment.
Assist with announcements and treasury reports
Maintenance of the project Github repo and updates to the bounty task board.
To assist the HSC with relevant research around regulatory changes that may affect the governance processes for the project.
The Secretary will not have the power to vote in key protocol/project upgrades or changes.
Working parties
A "Working Party" is any group or individual actively delivering initiatives that benefit the project. They can be formed organically within the community or under the direction of other groups. Examples of working parties include the protocol developers, marketing, content, tokenomics and decentralization.
Working parties can be funded through grants from the governance vault where needed. A process for the application of grants will be defined.
Working parties are run independently from the Haven Oversight or Steering committees, but they will be able to apply for funding for specific initiatives from Haven Council when needed.
Any WG members who wish to become HSC members should provide suitable evidence of their activity and commitment to the project development.
Recruitment and selection
Haven Oversight Committee (HOC)
The HOC members will be appointed for an initial term of 24 months by consensus within the groups of current contributors.
There will be members drawn from the following groups:
Core Developers
Community Managers
Long term Contributors
Trusted third-party developers
Haven Steering Committee
Any community member can nominate themselves for membership in the steering committee. Nominees are expected to share information to support their application. I.e.
Length of time in the community
Links or references to previous engagement and input into project matters
Insight into relevant knowledge and experience.
Reasons for wanting to sit on the Committee.
A community vote will be conducted to select members.
To ensure expertise from within working parties flows up into the Committee, any elected leader of an established working party will also be eligible to sit on the Steering committee.
Project Secretary
Once formed, the Steering Committee will recruit and appoint this position.
This individual or individuals will be encouraged to complete a 12-month term with an option to re-apply for a subsequent term. This will be subject to HSC approval.
One or more of the existing core contributors will carry out this role for an initial period until the HSC and HOC have been formed.
The Secretary should have a good understanding of the project and its broad aims. They should also be able to produce clear and effective written communications and be able to translate technical information in a concise and simple manner.
Members commitment
Terms
Members will not be bound to these term durations, and these are merely recommendations. Members will be encouraged to communicate any intentions to leave as early as possible to allow time to appoint a replacement.
Haven Steering Committee (HSC)
Suggested term: – 12 – 18 months
Haven Oversight Committee (HOC)
Suggested term: – 24 – 30 months
A variable term length will mean that any handover to new members can be staggered – to ensure continuity.
Members can nominate themselves for another term, but only with the support of a majority of HSC and HOC members.
Engagement
Regular meetings will be set for the Steering and Oversight Committees. It's expected that the steering committee will meet more regularly.
Ad hoc meetings may be held depending on requirements.
Members should remain active in decision-making processes and make reasonable efforts to attend every meeting.
Members should familiarise themselves with the proposal's scope ahead of the planned meeting.
Transparency and reporting
Where possible, council decisions will be documented and shared with the community, with support from the Secretary. Occasionally initiatives cannot be made public for commercial or security reasons. In these cases, details will be disclosed as soon as possible.
Treasury Management
The treasury (governance wallet) is a multi-sig wallet. For security, trusted community members, committees, and trusted 3rd parties will all be required to enable any transaction.
Actual approval for any budgetary spending should follow an agreed signoff protocol. The committees will make the decision on what to spend, and the treasury will arrange it.
Until this protocol is established, existing multi-signatories will fulfil this role, whilst the Council establish an alternative group.
For additional security, sub-wallets will be utilized for each working group (where required).
Longer-term, the treasury committee will also:
manage and administer project funding
ensure contributors are carrying out project tasks as per proposal before making bounty payments
manage cash-flow
maintain treasury security through the multi-sig wallet and make updates/changes as necessary
review long term funding solutions – enabling project development and growth
Produce monthly treasury report.
Utilize the wrapped token infrastructure to maintain the treasury as covered tokens to provide greater flexibility and security.
Committee decision-making process
Decisions will be classified to help determine the level of sign-off required.
Minor Decisions As elected representatives of the project, the Committees will have the authority to make minor decisions on behalf of the community.
Moderate decisions will require consensus in the Oversight Committee
Major decisions will require consensus in the community.​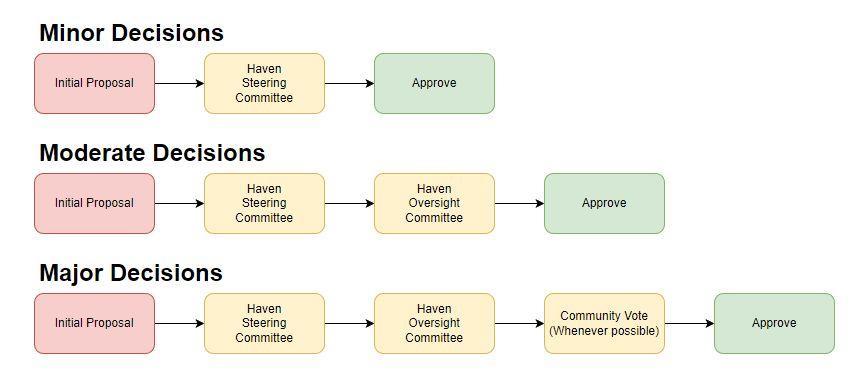 Examples of different types of decision
Minor decision
Day to day operational decisions.
Budget limit: $5k.
Announcements and marketing
Prioritization of minor tasks and sub-tasks
Moderate decisions
Budget limit: $5k – 30k
Prioritization of major initiatives
Engaging new wallets, exchanges and 3rd parties.
Major decision
Budget limit: $30k +
Tokenomics changes
Structural changes to the protocol
Changes to governance processes
Setting strategic goals and objectives.
Process
All but minor decisions should start life as a proposal. Consensus will be required before any proposal is progressed.
The steering committee will assess and action each proposal.

75% of members will need to agree on each action.
Outside consults will be used where needed. I.e. developers, representatives from working parties, 3rd party supporters.
Council Membership Remuneration
Haven Committee members will not be paid for time spent in the Committee. They will be rewarded with the opportunity to influence the direction and success of the project.
The Steering Committee will, however, have the authority to make discretionary one-off bounty payments to HSC and HOC members who have put in excess time into the project, above and beyond what is expected. This is a bounty, that will be paid on a project by project basis. This would be dependent on project funding levels and community approval.
Committee members will not be excluded from applying for a project bounty for work delivered through the normal channels.
Transition period
Currently, a significant proportion of the workload required to facilitate the ongoing maintenance and development is undertaken by full-time contributors. These core contributors are paid, at current market rates, from the governance vault.
In the future, and with consensus from the community, the Council will ultimately manage how the governance funds are spent.
To ensure continuity and stability of the work, we suggest that paid contributors continue to serve the project under their existing agreements under the Council's direction. This would ensure that the work continues whilst the new Council establishes itself. Over time, it is expected that the Council will work towards increasing the number of contributors by spreading payments to a broader base.
Next Steps
Gain feedback on this proposal