Haven Protocol v3.0 – Hard Fork Successful
On January 9th 2023, Haven Protocol successfully completed a hard fork to v3.0.2. This fork initiated a major update to Haven's tokenomics with the implementation of VBS and collateral requirements.
Change Summary
To summarise, the proposed changes to Haven's 3.0 tokenomics are:
Generic shoring measures
21 day unlock time for all XHV < > xUSD conversions
Minimum VBS = 1
No maximum VBS
Shoring cap per block
1.5% fees for all XHV < > xUSD conversions
1.5% fees for xUSD < > xAssets conversions, with 1.2% going to the gov wallet and 0.3% for miners
xAssets conversion unlock times to remain at 48 hours
VBS applicable to XHV < > xUSD conversions only
Offshore specific measures
Variable VBS based on the Market Cap Ratio of XHV and xAssets
Variable Slippage VBS based on the increase of the Market Cap Ratio
Max Offshore functionality
Onshore specific measures
Variable VBS based on the worst (higher) VBS between the Market Cap Ratio VBS and Spread Ratio VBS
Variable Slippage VBS based on the increase of the Spread Ratio
Max Onshore functionality
To read the full proposal, click here.
What do I need to know?
Coins
Your coins (XHV and xAssets) are not affected by this hard fork and they will be available to use after you have updated your Web/Desktop/CLI and have resynced your vault.
Vaults
Earlier versions of the Web/Desktop/CLI vaults will no longer work, which means you need to update them and resync your vaults.
As the vault structure has changed, a forced resync will be triggered when you open an existing vault on a version prior to 3.0.
Web Vault
The web vault has been updated automatically and there is nothing you need to do other than make sure your browser's cache has been cleared. You can check that you are running the latest version by clicking on the 3 dots top right hand corner.
Next to Network, it will say "Mainnet v3.0.0" or "Mainnet v3.0.2".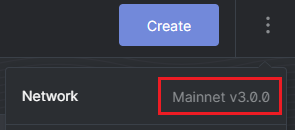 Desktop and CLI
Desktop and CLI vaults will need to be updated to the most recent versions, v3.0.2.
They can be downloaded from here.
Passwords and Keys
In all instances, you can use your existing vault keys file and password to reopen the vault.
Conversions
Please note that mainnet conversions exposed an issue with pricing records for the collateral verification.
Haven developers are going to work to resolve this as quickly as possible.

To read details about the new conversions and how they work, click here.
This is your protocol.
We will continue to make improvements as we navigate the volatility of crypto, but what is even clearer now than ever before is that Haven is instrumental for the future of financial privacy.
We'd be happy to answer any questions or discuss the changes in more detail in Discord. We're looking forward to feedback from the Haven Protocol community as we all work to ensure the long-term growth and success of this innovative privacy project.
Keep sharing the Haven message!